Current Silver Market Price
Summer 2016
For the last twenty years the surge in popularity of white precious metals was simply a color preference. With gold at $1300.00 we see affordability also spurring this trend. It just makes total sense to purchase an affordable gift of Sterling Silver jewelry.
At this writing, January 2015, Silver is hovering around $18.00 dollars an ounce. The current price is still high when you are in the Jewelry business. Your customers have the belief that the price of Silver is static. The recent drop seems to be a rush to liquidity by investors. Although,Have you ever noticed that when oil drops, Silver drops also?? Just thought I'd throw that out there. Factor in the concerns with taxation, regulations, healthcare and more...you really have a lack of price stability.
This current price situation has turned the Silver Jewelry business "on it's ear." The manufacturers in third world areas can't purchase the raw materials without sizable deposits. The importers don't want to stock the merchandise and the large chain retailers have switched to plated goods.The consumer knows Gold is expensive because it's a "water cooler" topic and the lead story on every business channel. They are completely in the dark about Silver and the fact that Silver, historically, is a better investment. Movement in gold prices makes news. Movement in silver may as well be secret. That makes a hard sale for those of us in the business. Some consumers believe Sterling Silver Jewelry is always the same low price.
---
8 hour (New York) $US Dollar price per ounce.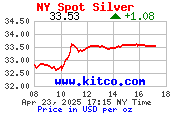 ---
Why not have some fun and click on the historic charts and pat yourself on the back for the really super buys you made in silver jewelry the last few years.
http://www.kitco.com/charts/livesilver.html#ny
Written by and Copyright © Doug Clemens www.sausalitosilver.com
About The Author:
Doug has been involved with almost every facet of the Sterling Silver Jewelry industry since 1974. His experience includes manufacturing, importing and distribution. Also a key silver jewelry and fashion watch resource for major department stores and independents. In addition, an owner/operator of silver jewelry retail outlets
NOTE: You may reprint this article in its entirety if you attribute the article to Doug Clemens and include the website link above.